Flying into History
by Adrian Rigby


INCREDIBLE UNIQUE OFFER
We took 10 prints from stock, they were taken to France to have then signed
by 2 of the original 6 Aircrew from the very FIRST Test Flight of Concorde 002
(the British Concorde) on April 9th 1969

Then they were signed by Les Brodie who Captained the very FINAL
Concorde flight on 26th November 2003!

That is a print signed by the FIRST and LAST ever Aircrew to fly Concorde!
How rare and valuable could you get?

If you want one? Take it now! Only a few remain
See below for more details
NOTE ONLY 10 OF THESE PRINTS WERE SIGNED!
A VERY UNIQUE ADDITION TO ANY COLLECTION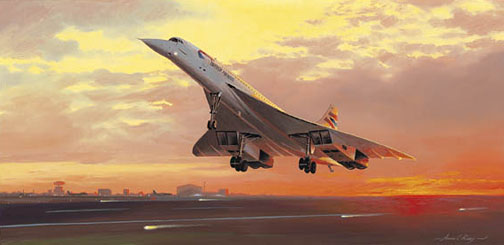 Flying into History by Adrian Rigby
Print size: 11¼ x 23½ ins (29 x 60cm)

British Airways Concorde on take-off One of the most beautiful and
glorious sights an aviation enthusiast could ever witness!
Adrian Rigby has become known as the bench mark for Concorde Prints! His 'Concorde Comes Home' (now much sort after and sold out long ago) was the first release as Concorde was due to retirement in October 2004. Second, came 'Flying the Flag' over Manhatten New York
Thirdly, 'The Final Flight' over the Clifton Suspension Bridge, Bristol Next 'Pride of Britain' over London again And now, this AWESOME Limited Edition Print titled Flying into History'

Whether you already own all of Adrian's Concorde prints, just one or none at all, IF you remember Concorde and long for that aweome sight again, this surely is a print that captures this magnificent before its time masterpiece of the air in ALL her awesome glory!


OUR SPECIAL UNIQUE OFFER
EXTRA SIGNATURE PRINTS

Firstly, we have 2 crew from the original Test Flight Crew of 6
from the first ever flight of Concorde 002
(the British Concorde) from Filton, Bristol on April 9th 1969

Mike Addley and Peter Holding
(seen often being interviewed on a television programs featuring Concorde)

The other very important name is Captain Les Brodi
who shouldn't need any introduction,
but if you're not sure who Les is,
he was the LAST EVER person to fly and Captain a Concorde,
bringing G-BOAF into Filton (her home) for the very last time on
26th November 2003. The flight was from London Heathrow to Bristol Filton

We do not need to point out how not only special these extra names
are but also how UNIQUE too!
Only a few left!
Make someone happy with an awesome unique gift
and get a serious aviation investment thrown into the bargain!

NOTE: ONLY 10 OF THESE PRINTS WERE SIGNED!
A VERY UNIQUE TO ANY COLLECTION

Flying into History
by Adrian Rigby

Image size: 11¼ x 23½ ins (29 x 60cm)
Edition size: 500

Signed by:
Artist: Adrian Rigby
Concorde Pilot Christopher Orlebar (The author of 'The Concorde Story')

Price: £127.00
OR

One of our 10 prints with the extra Historic Concorde Signatures
Signatories

Artist: Adrian Rigby
Concorde Pilot: Christopher Orlebar (The author of 'The Concorde Story')
From first Test Flight 1969: Mike Addley (comes with photograph of Mike signing print)
From first Test Flight 1969: Peter Holding (comes with photograph of Peter signing print)
Pilot of Last ever Flight 2002: Les Brodie (comes with photograph of Les signing print)

Comes with Photographs of all of above signing the prints

Special Offer Extra Signature Price: £250.00

Choose which print you want in the box below


All major credit cards are accepted with delivery taking usually
5-7 days for Europe and 7-10 days for the rest of the World.




Also, see prints we actually flew on the last ever Concorde flight to America
and the last ever flight of Concorde G-BOAD




View other Concorde Prints